Top 10 Must Eats In Greece
My Husband has a one track mind when it comes to food. He sticks to one thing, chicken. Getting him to eat a vegetable is tricky. I tend to have to hide the vegetables in the meal, so he doesn't know he's eating a vegetable. So before we got to Greece he had the notion that he didn't like Greek food. I'm like, man you're crazy, it's going to be dang good. I love a cuisine based on fresh ingredients. I was most excited about their Greek salads, and having feta cheese every day. And let's just say I did! By the end of day one, my husband fell in love with Greek food, and I had to say, "I TOLD YOU SO!"
Here is a list of our favorite dishes that we shared, as we usually split a few appetizers, to taste a little of everything. Of course we washed it all down with the suggested local Greek beer.
#1 Spinach Pies
Often I had Spincha Pies as a breakfast pastry paired with a freddo Cappuccino. (Iced Cappuccino) The puff pastry was always so flaky and the spinach mixed sometimes with feta cheese, was just mouth watering.
#2 Fava
Made from fava beans, this dish is pretty close to Hummus, but better. With the added touch of lemon and white onion on top, we loved scooping this fava dip with pitta bread. Yum, we couldn't even hold off for a decent photo before devouring it. We tried it with caramelized onions, and we were not impressed. The onions had to be raw with a squeeze of lemon and olive oil.
#3 Tzatziki
I would eat this by the spoonful, to save on carbs. You can also enjoy Tzatziki by dipping it with pita bread. But yum, yum, yum.
#4 Moussaka
I think my husband had moussaka every day of our vacation. He even ate the eggplant... mainly because it was hidden the dish that looks like lasagne. Layered with meat, mashed potatoes in a tomato sauce. We only found a vegetarian moussaka once during our 3 week vacation, for me to try. I loved being able to try it. Delicious.
Olives & Olive Oil
Olives grow plentiful in greece. Rippened to perfection under the mediterranean sun. So eat olives, buy olives and drizzle Olive oil at your leisure.
Gyros
You've got to have a Gyro in Greece. I loved that french fries were apart of the stuffing in most places.
Souvlaki
The cheapeast thing to eat that would fill you up. Street meat!
Saganaki
Fried Cheese! Enough said. Oh and the squeeze of lemon, just takes it to the next level.
Greek Salad
I don't know if the ingredients tasted better or if it was just the fact that I was eating a greek salad in greece, but I had one everyday for a reason. So good! Healthy, light and perfect on a hot day.
Dolmathakia
Filled with rice, herbs and drizzled with olive oil. Dolmathakia was a nice appetizer to add to our mix.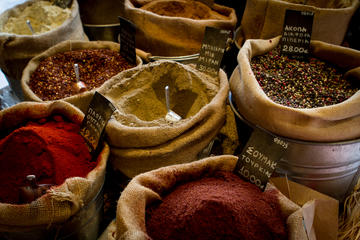 Private Greek Food Tour in Athens
from:
Viator
What is your favorite Greek food? Which one do you look forward to trying?