Top Day Trips From Athens
My Husband and I spent 3 full days in Athens. When it was all said and done, I felt like we had a pretty good grasp on the city and the main tourist sites that it had to offer, so we set off for a 4-day road trip to surrounding cities on the mainland. Here is our experience:
Delphi
On our last day in Athens we rented a car and went on a summer road trip. We headed to the ruins of Delphi, which sit on a hill. Let's just say you'll get your daily 10k steps in before noon. Delphi is about a half-day site seeing adventure.
Meteora
We continued on to Meteora, where we stayed overnight. We did a half-day tour of the beautiful monasteries on the rocks. I could have stayed another night, but we quickly moved on for a 7-hour drive to Sparti, better known as Sparta.
Sparta & Mystras
The next day we saw the ruins of Sparta and then went to the ruins of Mystras, a city built on the mountain side. I was almost sick of seeing ruins but this castle-like city revived me. Massive in size, it was fun to visualize what life was like. This was a highlight of my trip.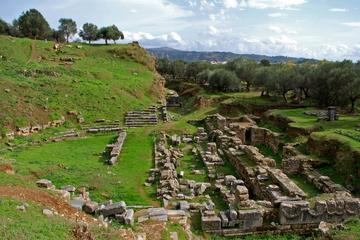 Sparta Mystras Private Day Tour - $555.71
from:
Viator
Epidaurus
After a morning in Mystras, we drove 2 hours to see the most preserved amphitheater in Europe: Epidaurus. My husband based some of his work off of this place. He literally spent the better half of a year staring at a picture of this location for work. So of course we had to see it, and it was epic. If you stand in the middle of the dome and speak in a whisper, the entire amphitheater is able to hear you, even the back row. Acoustics, were off the chain.
#Sundayfunday #DayofRest
We loved pampering ourselves after 9 days of hitting well over 10K steps while walking over 10 ruins, in 4 cities, and a ton of driving within 3 days. We squeezed it all in, and it was worth it! The reward? Island hopping for 2 straight weeks and beach bumming.
Is there a place we missed? let us know in the comment section below.