3 Days in Prague with kids
While Prague is a party city in my opinion, you can for sure enjoy the city with kids.
We went to Prague with another family by train from Budapest . It was an awesome journey. Honestly the best part about Prague was the fact that we were doing it with kids. They bring so much joy in exploring, and Prague was a great place to do that.
So here's what we did with the kids for 3 days in Prague. My child is 1 and the other is 3!
Accommodations
In booking our Airbnb just a few weeks prior to our trip, the options were slim in accommodating our 2 families. We even looked on Booking.com which is a great site for booking rooms in Europe, but had no luck. So we went with this Airbnb which had reviews warning us about the noise from the square below but we decided to book it for the space it provided for the two families.
As it turned out our kids had no problems sleeping through the night. Although the techno thumping beat and the yelling and laughing sounded like it was in our flat, we couldn't ask for a more prime location.
Prague Astronomical Clock
Since we stayed in the actual center of Old Town, we loved hanging out by the Prague Astronomical Clock. It was stunning. The clock show goes off every hour and it is a sight to see. The square also has a ton of performers and things to see, which kept the attention of our kiddos.
Parks, Castle, and more!
If you see a playground. Stop. Just 20 mins in a park will help you continue your sightseeing day with ease. The girls did great in the strollers, but the moment there was an open area for them to let off steam…. we would let them run wild!
When sightseeing you have to head across the river and up the hill to Letna Park. This area not only gives great views to the city, but is a beautiful city park that also houses a playground. It was perfect to sightsee and let the kids play. From there we headed to the castle area where we got to go into St. Vitus Cathedral and walk around the grounds. Just beautiful.
The next day we took the long way to get to the island that is dedicated to children called "Awesome Prague Playground." We walked along the famous Charles Bridge, circled around to the John Lennon wall and then headed down to the park.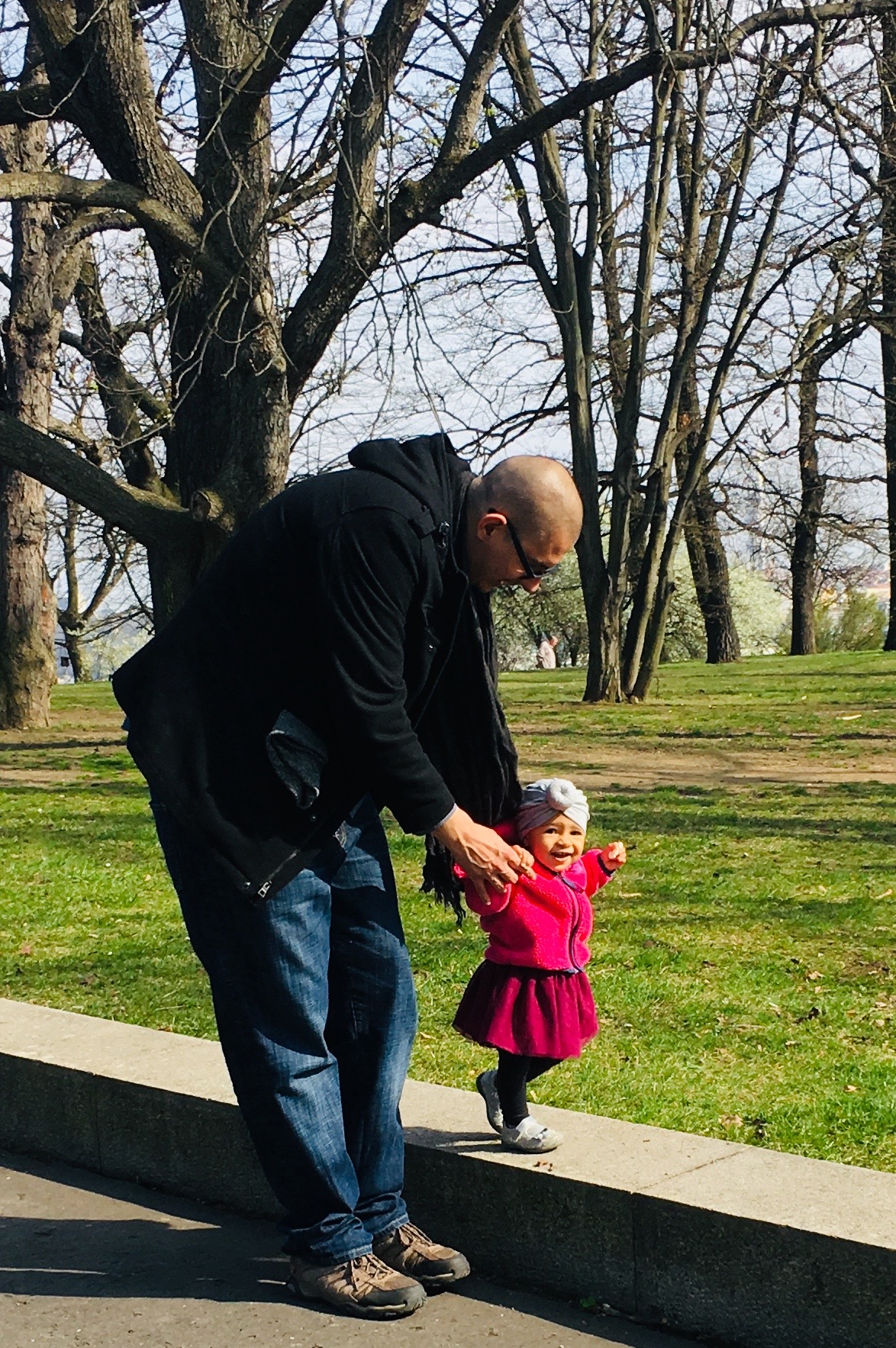 Local Perspective
On our last full day in the city we wanted to see what life was like for the locals, and strolled towards District 2. We walked through Wenceslas Square where the girls played with huge bubbles from a street artist… I use that loosely as he was clearly looking for a way to make money. The girls loved it. Then we walked towards the District 2 to an area called Flora where there were cute tree lined streets and beautiful architecture to look at. We landed at Dětské hřiště U Vodárny playground where we let the kids run around. We talked to some locals and they told us to head 2 blocks down to a cute street market that happens every Wednesday through Saturday. We enjoyed some yummy treats, us moms sipped some wine, and again we let the girls dance around to the band that was performing.
From there we had lunch at Bruxx which had an indoor play area for the kids to run around. The food was good and another way to entertain the kids. After lunch we went on a hunt for ice cream and wound right back at the market area. Just a big circle… but it's fun getting lost in a beautiful city. We wondered to the Rieger park where locals brought picnics and beers to hangout. The view of Prague at the top of the park was stunning. There was also another playground in this area but we avoided it, because quite frankly us parents were done with the park. We ended up sitting on the hill and watching the sunset. My friends daughter took a nap in the stroller and my daughter roamed around the hill saying hi to the locals.
This neighborhood was just beautiful and I was so glad to get out of the city center with the tourist and truly enjoyed seeing how the locals live.
Museums & Tours
No we didn't do any tours, or see any museums… are you crazy? With toddlers. That would have been a nightmare. There are several tours you can do with kids, depending on the age. We just always say, if we loved the city will be back…. when the kiddo is older!
I still think we got to see most of the beautiful historical sights. We saw over 20 different clock towers, as every square and every corner you turn has a clock! It's beautiful! I thought it would have been cool to do a drinking game, but we have kids, and that's not responsible…. right?!?
Have you ever been to Prague? What are your favorite things to do there? Ever gone with kids? Let us know if i missed something cool!